Contact Us | Book Appointment with a VAL-Uvision Optometrist Near You
 Select your preferred Jax location in Arlington (Regency) or Mandarin (San Jose) by clicking on the "Request Appointment" button below. Or call us now to book an eye exam with a VAL-Uvision eye doctor near you!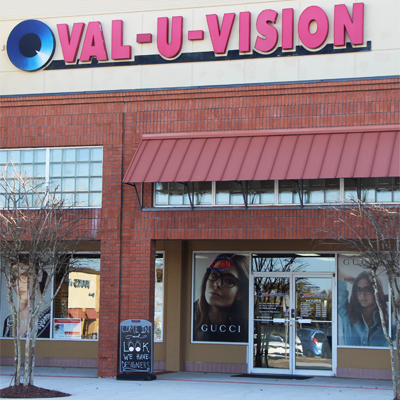 Regency Park
9400 Atlantic Blvd, Ste. 62
Jacksonville FL 32225
904-721-7700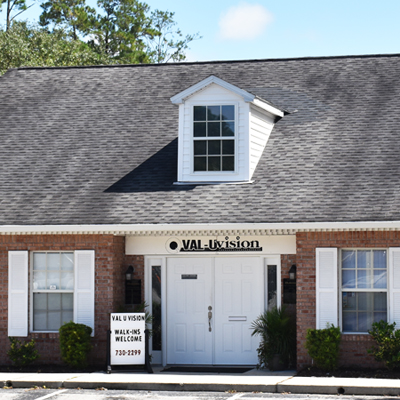 Mandarin / San Jose
9397-2 San Jose Blvd.
Jacksonville, FL 32257
904-730-2299

Why Choose VAL-Uvision, #1 Optometrist Near You In Jacksonville?
When you do a search for 'eye doctor near me' or 'eye exam near me' you'll likely find many practices. So what makes us stand out?
 46+ Years of Providing Top Optometry Care
Our eye care center has been in operation since 1978. We have a long history of proving our dedication to the community's eye health and our outstanding service.
We've been in business this long because we've always put patients first and take the time necessary to ensure our patients receive accurate prescriptions and all their needs are addressed.
Still Locally Owned & Proud!
Nowadays, it's difficult to find a local eye doctor near you that is still locally owned and operated, that focuses on individualized care with the sheer purpose of providing you with the most pleasant experience possible.
Our eye doctors not only help pair you with a prescription for contacts or eyeglasses that optimizes your vision, we do it all with a smile. We genuinely want you to leave our office feeling confident in the services we provide.
2 Convenient Jax Locations in Arlington (Regency) and Mandarin (San Jose)
With 2 convenient locations, you can be sure to find a VAL-Uvision optometrist near your area.
It also means you'll have to wait less time to see an optometrist since we have more appointment dates and times available.
Our locations include:
VAL-Uvision-Mandarin
9397 San Jose Blvd #2
Jacksonville, FL 32257
VAL-Uvision-Regency Park
9400 Atlantic Blvd, Ste. 62
Jacksonville, FL 32225
Monthly Specials & Coupons for Eye Exams, Glasses, Contacts & More
Our eye doctors' office offers regular eye exam specials and discounts to patients, so you save money when you schedule with us.
Our specials and discounts change each month, so if a special doesn't suit your needs, you can always wait until the following month to find one that helps you save money. Sometimes, you can get a special where the lenses for your eyeglasses are free, so you only have to pay for your frames.
Trusted, Experienced Eye Doctors
Our optometrists have a strong educational background along with the experience necessary to give patients the care they deserve. At VAL-Uvision, we have two convenient locations, so you can pick that one that's closest to your home or work.
We should mention our doctors also own our 2 two locations, so you can pick that one that's closest to your home or work AND you'll get a more personalized experience and won't deal with a facility whose owner doesn't have an optometric background.
Open on Saturdays & Evenings
If you work during the day, it can be frustrating and a challenge to schedule in an appointment since most optometry offices close early.
Not at VAL-Uvision.
We are open nights and Saturdays until 8pm. You may have to wait to see the eye doctor until one of your vacation days since most eye doctors don't offer weekend appointments.
Accept Most Insurance Plans & Flexible Payment Options
So we can serve a majority of the Jacksonville and surrounding area, we accept most insurance plans. We accept Medicaid, Medicare, and Tricare. We also accept Highmark Blue Cross/Blue Shield, Eyemed, VSP, VCP, Davis Vision and County School Board, among many others.
If you have a health savings plan (HSP) or flexible spending plan (FSP), you're able to use your funds toward your eye exam or even your prescription glasses, contacts or sunglasses.
We handle all aspects of your insurance to prevent you from having to endure the stress and frustration of contending with the insurance company. We make sure you understand your policy and its limitations, so you're never surprised with a bill you weren't expecting or didn't understand.
2000+ Eyewear: Largest Selection of Prescription Glasses in Jacksonville
For you to want to wear your glasses every day, you have to have a pair you're comfortable in and feel confident wearing. That's why we offer a wide variety of styles from brand names and less expensive options.
Additionally, we have a large supply of contact prescriptions in stock, but if we don't have yours at our office, we're able to order them for pickup or delivery.
State-of-the-art Technology
At our two centers, you receive the benefit of the latest technology along with prominent eye doctors to perform your eye exam. The benefits of choosing our facility don't stop there, either.
If you're looking for an optometrist in Jacksonville, FL or the surrounding area, you should consider VAL-Uvision.
Schedule an Appointment With Your Local Optometrist Nearest You
We're open to answering your questions and making you feel comfortable about your choice in eye care, which sets us apart from other eye doctors' offices.
Schedule an appointment with one of our optometrists by contacting VAL-Uvision, serving the Jacksonville area, by calling us at:
Mandarin – 904-730-2299
Regency Park – 904-721-7700