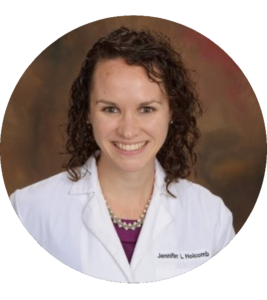 Dr. Jennifer Balo earned her doctorate of optometry in 2015 from the Illinois College of Optometry in Chicago. During school, she completed externships in primary care, contact lens fitting, ocular disease, pediatrics, vision therapy and low vision. Clinical training included rotations through the low vision department at the VA hospital in West Haven, CT, the University of Florida Ophthalmology department in Jacksonville, FL, and a community health clinic in Chicago, IL. During all four years of school, Dr. Balo worked in a Chicago clinic dedicated to providing free eye exams to underserved school-aged children. Dr. Balo also had the privilege to join with optometrists and fellow students for three weeklong service trips to provide free eye exams and glasses to poor populations in Honduras and Belize.
She is certified by the National Board of Examiners in Optometry. Dr. Balo is a member of the American Optometric Association and the Northeast Florida Optometric Association.
Dr. Balo is thrilled to join the VAL-Uvision Mandarin team dedicated to giving compassionate and high quality care to each patient. Providing comprehensive eye care for patients of all ages and fitting contact lenses with the best technology are particular passions. She gives every patient her full attention to perfect prescriptions and care for all aspects of their eye health.
Originally from Wisconsin, Dr. Balo landed in Jacksonville after meeting her husband on a clinical rotation. She enjoys board games, music, cooking, running, and relaxing with her young family.