Contact Lenses in Jacksonville at VAL-Uvision 
VAL-Uvision specializes in all types of contact lenses in Jacksonville. We have contacts designed to be worn for different periods of time, from single-use disposables (daily contact lenses) to extended-wear models such as monthly contacts.
We also provide either super-comfortable soft contacts or rigid gas permeable contacts that can correct even very strong refractive errors. 
VAL-Uvision can recommend the optimum contact lens choices for any patient based on a complete eye exam and review of the patient's visual needs. Since most individuals can wear more than one type of lens, our Jacksonville eye doctors help our patients understand the choices and what the advantages and disadvantages are to each choice.
Learn more about the types of contact lenses we offer in our Jacksonville offices.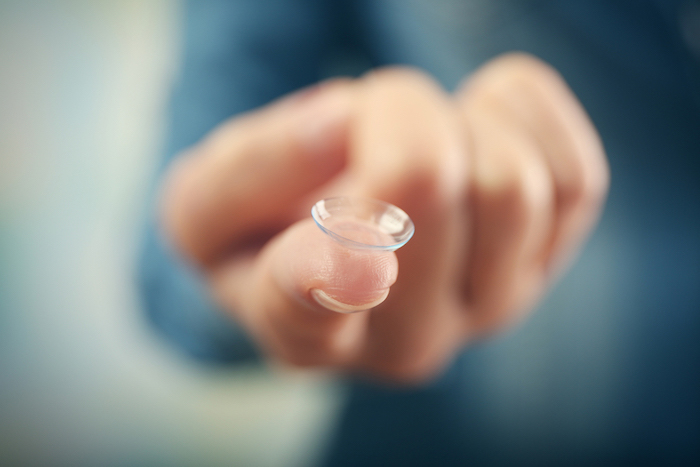 Your First Contact Lens Fitting In Jacksonville
Your first step toward obtaining contact lenses is a contact lens exam in one of our Jacksonville locations. This essential process involves taking careful measurements of the pupils, corneas, and irises.
It's also a time for evaluating what kind of contacts will best suit your eyes. We will consider your vision prescription, any underlying physical problems (such as giant papillary conjunctivitis, keratoconus, or dry eye), and how your lifestyle will affect your choice of lenses (such as your willingness to clean your lenses versus the desire for extended-wear contacts).
What Contact Lenses Are Available At VAL-Uvision In Jacksonville?
Whatever type of contact lenses you need, VAL-Uvision can provide them. Do you have a particular vision issues that calls for specialized contact lenses? We can fit you for toric lenses (which are ideal for astigmatism correction), scleral lenses (which can compensate for keratoconus), or multifocal lenses that correct presbyopia just as well as bifocal or trifocal eyeglasses. We will then make sure that your new contacts fit well, feel comfortable, and give you the experience you were hoping for.
We stock an extensive supply that includes:
Soft Lenses
Soft lenses are made from a soft, specially formulated gel-type plastic. They are thin and pliable, and conform to the front surface of the patient's eye. These lenses make contact lens wear much more popular because they typically are immediately comfortable.
Hard Lenses
Hard or PMMA lenses are constructed from a rigid plastic material referred to as polymethyl methacrylate. It is the same substance used for glass in shatterproof windows. These types of lenses are noted for their excellent optics. However, they do not oxygenate the eye and some patients can have problems adapting to them.
RGP lenses
RGP lenses are rigid, yet look and feel much like PMMA contacts. However, they are rigid and allow oxygen to pass through them. This type of lens can be fit closer to the eye , because they are porous, and are permeable to oxygen. This makes them more comfortable to wear.
Daily Wear lenses
Daily wear lenses are worn during the day but should be removed prior to sleep.
Daily disposable contacts
Most soft contacts used once before being discarded. This translates to a new pair of lenses each day. Daily disposable contact lenses have the advantage of not needing daily disinfecting or soaking, as they are presented to the patient sterilized and ready to wear.
Extended wear contacts
Extended wear lenses can be worn overnight for as many as seven consecutive days without removal.
Color changing lenses
Color changing lenses give patients to change the appearance of their natural eye color.
Contact Lenses For Astigmatism, Dry Eyes & Hard-To-Fit Eyes
Certain eye conditions, such as keratoconus, astigmatism or dry eyes, can make wearing contact lenses difficult. The optometrists at VAL-Uvision offer multiple effective lens options for hard-to-fit eyes such as contact lenses for astigmatism that are tailored to meet each patient's specific concerns.
Quick Links
FAQ: About Contact Lenses In Jacksonville
How much does a contact lens exam cost?
How much a contact lens exam costs in 2020 depends on various factors. Read our blog for more information.
Do I need a current prescription to order contact lenses online?
Yes. It is important to have an updated prescription from an eye doctor to order from our contact lenses store online.
What methods of payment are accepted?
VAL-Uvision accepts all major credit cards and other forms of payment. Call us to learn more.
The Comfort and Convenience of Contacts
There are many reasons why people might prefer contacts over traditional eyewear: the glasses-free look, no-hassle vision correction, to accompany non-prescription goggles or sunglasses, or simply the convenience of never having to worry about misplacing one's glasses.
In some respects, contact lenses are the next best thing to having normal vision. These small, discreet lenses can correct refractive errors such as astigmatism, hyperopia, myopia, and presbyopia more accurately and comfortably than ever before.
The first contact lenses had issues with comfort while also depriving the eyes of necessary oxygen. But times have changed since the 19th century, and today's contact lenses are easy to put in, comfortable to wear, and safe for the eyes. They also hold some advantages over conventional eyeglasses. Not only do contacts correct your vision issues "invisibly," but they aren't as vulnerable to damage (as likely to cause injuries) during high-impact work or sports activities.
Before you can enjoy these benefits, you need to make sure you're getting the right contacts for your specific needs and preferences.
Get Your Perfect Contact Lenses in Jacksonville FL
Contact lenses are amazing devices when they're selected and fitted with the proper care. You can experience the difference for yourself by calling VAL-Uvision today to schedule a contact lens exam and fitting. We're your family's trusted contact lens resource in Jacksonville FL!
Book a contact lens exam in Jacksonville, FL with a VAL-Uvision optometrist nearest you!