Meet Our Top Jacksonville Eye Doctors at VAL-Uvision
At VAL-Uvision, our staff is friendly and professional. Our commitment is to provide exceptional customer service to all of our Jacksonville patients.
We take pride in our personalized service for 46 years and strive to spend the necessary time with each patient to ensure a comfortable experience. Our Jacksonville optometry professionals are passionate about providing high-quality care to our family of patients.
We focus on providing comprehensive eye exams, a large selection of fashionable eyewear, contact lenses, and the best possible vision care. Come in today to see why we're #1 in Jacksonville for optometry.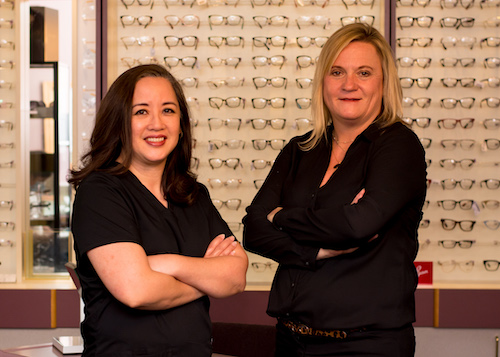 We're proud to be one of the few locally owned eye care providers in Jacksonville!
Same Day & Walk-Ins Appts
Our patients love us!
1 hour service on many prescriptions
Lowest Prices In Jacksonville! See our monthly specials for eye exams, glasses and more.
We carry 2000+ eyeglasses and frames from the brands you love.
Open Saturdays and late nights on some days for your convenience.
RELATED: Why Choose VAL-Uvision in Jacksonville?
The VAL-Uvision Team
Diana Rauchwarger, LDOC
Janet Crowder, Manager
Dr. Dorothy Dobleo
Jennifer Cox, Manager
---
VAL-Uvision FAQ: Frequently Asked Questions
When you need services from an eye doctor in Jacksonville, which should you seek: an optometrist, ophthalmologist or optician? Learn more about what an optometrist does to decide if the Jacksonville optometrist at VAL-Uvision can help.
What Is An Optometrist?
An optometrist's job is to examine your eyes, diagnose and treat eye diseases, and test for vision problems such as nearsightedness, farsightedness and astigmatism. If you need glasses or contacts, our optometrist is the eye doctor to see.
If you want LASIK or other eye surgery to correct vision problems, you need to see an ophthalmologist. If you need help being fitted with eyeglasses or contacts, you need help from an optician.
What Level Of Education Do Optometrists Receive?
Doctors of optometry are required to complete a four-year undergraduate degree and then four more years at a college of optometry where they study the eye, its structures, and how to diagnose diseases and vision problems. Then, optometrists undergo intense clinical training, similar to that of medical doctors and dentists, to become licensed.
All optometrists at VAL-Uvision have completed the schooling, training and licensure required to practice in the state of Florida. Many have even gone above and beyond, serving on the board of directors and as presidents of esteemed optometric associations here in Jacksonville and elsewhere.
Why Should You See Our Jacksonville Optometrist?
Optometrists are the eye doctors you should see yearly for eye exams. This preventative care is important for preserving your eye health and ensuring the sharpest vision.
Of course, you should visit your local eye doctor if your vision becomes blurry, you break your glasses, or you need to renew your contact lens prescription. But even if nothing seems wrong, you should still visit our optometrist Jacksonville annually to check for eye diseases. Early diagnosis makes treatment more effective so you can preserve your vision for years to come.
What Specific Treatments Do Optometrists Provide?
In general, no matter what eye care you need (aside from surgery) you can get it from our Jacksonville eye doctor. Here's a partial list of the services we provide:
Eye exams to detect vision problems and diseases
Glasses and contact lens prescriptions
Diagnosis of glaucoma, cataracts, macular degeneration and others
Pre- and post-operative care for eye surgery patients
Treatment for vision problems caused by underlying issues (such as vision changes caused by diabetes)
 Treatment for eye injuries, including removal of foreign objects from the eye
Call Now & Receive Quality Eye Care For Your Family In Jacksonville
Visit one of our two Jacksonville optometry locations in Mandarin and Regency Park for quality eye care at VAL-Uvision! To learn more, call us today.