VAL-Uvision Locations in Jacksonville, FL
At VAL-Uvision, we have two convenient locations in the Jacksonville FL area to choose from. That means, you can schedule an eye appointment at VAL-Uvision of Regency Park or VAL-Uvision of Beauclerc Mandarin that's most convenient for you.
Having two offices means we have more appointments available, so you never have to wait months just to see one of our eye doctors. Whether it's a routine eye examination, contact lens fitting or eyeglasses you need, our optometrists and staff are here to ensure you receive a high-quality eye care, no matter which location you select.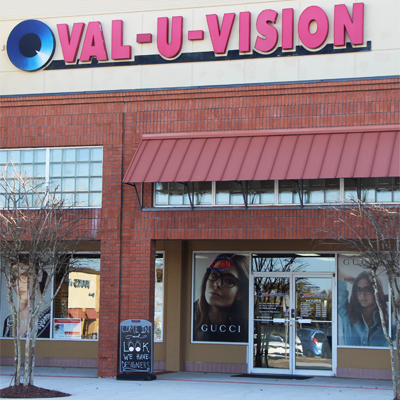 Regency Park
9400 Atlantic Blvd #62
Jacksonville FL 32225
904-721-7700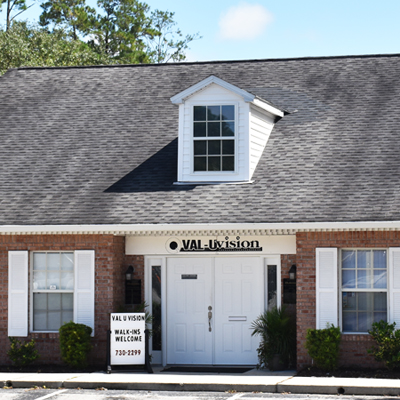 Mandarin / San Jose
9397 San Jose Blvd #2
Jacksonville, FL 32257
904-730-2299

About VAL-Uvision at Regency
We have three eye doctors serving our Regency location in Jacksonville. Located at 9400 Atlantic Blvd, Ste. 62, Dr. Alan Rauchwarger and Dr. Mary Del Campo work together to provide the community with an optimal solution for eye care. Our doctors at this facility have years worth of experience and dispositions that make your visits less stressful.
Our Dr. Alan Rauchwarger completed an undergraduate degree program from 1966 until 1968 at the University of New York at Oneonta, New York. He then obtained his graduate degree at the Pennsylvania College of Optometry from 1968 until 1972. He's a board-certified optometrist who completed his residency in low vision from the Optometric Center of New York in 1972. He's owned his own optometry office since 1972 and has proven he thoroughly understands business, optometry and customer service.
Our board-certified Dr. Mary Del Campo is an active member of the American Optometric Association and the Northeast Florida Optometric Association. She earned a bachelor's degree in Zoology from the University of Gainesville, FL and her doctor of optometry from the Nova Southeastern University's College of Optometry from Davie, FL. Prior to joining our team, she worked at Pearle Vision. Dr. Del Campo specializes in ocular disease and contact lenses.
About VAL-Uvision at Mandarin
Our Mandarin location has several optometrists practicing from it: Dr. Gayle Leinwohl, Dr. Ashley Stowe. Our Mandarin location is open six days a week including Saturdays.
Our Dr. Gayle Leinwohl grew up in Lancaster, New York and attended the State University of New York and the State University of New York's College of Optometry. In 2001, she began working at VAL-Uvision and has continuously proven her skill as an eye doctor. She has now owned the Mandarin location since 2012. She is currently an active member of the American Optometric Association and the Northeast Florida Optometric Society.
Services We Offer
Comprehensive Eye Exam
At either of our Jacksonville FL locations, patients can come in and receive a comprehensive eye exam. Our eye exam begins with a visual acuity test that determines if, and how, nearsighted or farsighted, you are. You'll be asked to look at several lines and read them to our optometrist, so we can determine the strength of your prescription.
During your exam, we'll also evaluate your eyes for any refractive errors such as astigmatism. We'll then pair you with contacts and/or eyeglasses specifically for your condition and prescription.
Contact Lens Fitting
Our optometrist will conduct a contact lens or eyeglasses fitting. The contact lens fitting uses a specialized device that measures various dimensions of your eye while the eyeglasses fitting measures the frames, stems and other aspects of your glasses to ensure your comfort.
Medical Eye Problems
When you schedule an eye exam with us, we go beyond just pairing you with a prescription and new corrective eyewear; we also screen and treat you for various eye problems. For instance, by visually examining the eye and discussing your symptoms, we'll see if you have any signs of dry eye. We'll also screen you for glaucoma by recording your symptoms and testing the ocular pressure in your eye. Through the results of your vision screenings and your symptoms as well as an examination, we'll be able to check you for cataracts, a condition that occurs when the lens of the eye becomes cloudy. In addition, our optometrist will check you for macular degeneration and diabetic retinopathy, among other conditions.
Surgery Co-Management
Our eye doctors will conduct the initial LASIK evaluation to determine if you're a candidate for LASIK by ensuring you don't have any eye or health conditions that could interfere with the procedure. This is a prime time for one of our optometrists to address any concerns about the procedure you may have. Once we determine you're eligible for LASIK, we'll provide you with a referral to one of the LASIK eye surgeons in the area who we recommend. After you undergo the procedure, we'll conduct a follow-up at our office to evaluate the results and ensure the surgery's success.
Other Benefits of Choosing Us
We continuously offer specials and discounts that change each month. And we accept most insurance including Blue Cross Blue Shield, Tricare, Medicaid, Medicare and numerous others. We should mention, for your convenience, you can use your health savings plans (HSP) and flexible spending plans (FSP).