What Is The Cost of A Contact Lens Exam In 2023?
People are typically surprised to learn the cost of contact lens exam in 2023 while testing is similar to the cost of a standard eye exam.
The primary difference between a contact lens exam and a regular eye exam involves the need for your eye doctor to obtain accurate dimensions of your eye's shape, especially the cornea and lens so that your contacts fit comfortably.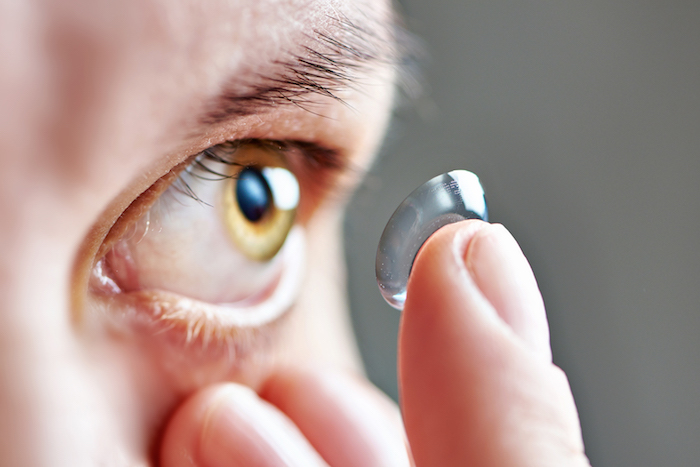 In addition, certain eye conditions may warrant further assessments if you need specialized contact lens to accommodate keratoconus, astigmatism, presbyopia, dry eye syndrome and other unique eye problems.
Average Cost of a Contact Lens Exam Without Insurance
Typically, the average cost of a contact lens exam ranges between $120-$250. 
The average cost of a regular eye exam will vary depending on where you live and the type of optometry office you visit.
With that said, keep in mind these are averages.
Contact lens fittings without insurance can start as low as $100. You'll find big brand names like America's Best will offer the cheapest options. We suggest calling several optical/optometry offices near you to find the best eye exam rates for your needs.
Discount Retailers
Eye exams at large retail chains like Visionworks and Walmart will generally cost less, and eye doctors in private practice will charge more.
Optometrists that work in department and big box stores often charge less, but may not provide the in-depth contact lens exam you need to receive correctly fitting contacts offering superior accommodation qualities.
Insurance Coverage
Having eye insurance will significantly reduce the cost of all eye health and vision exams.
When you purchase an eye insurance policy, your out-of-pocket costs decrease according to the deductible amount you choose.
Eye insurance works similar to health insurance and helps pay for exams, glasses, contact lenses, eye disease treatments and even prescriptions. If you are interested in obtaining eye and vision insurance, we would be glad to discuss options with you and assist you in finding eye insurance to fit your needs.
Other Factors Contributing to the Cost of a Contact Lens Exam
If you need tests outside the realm of standard eye testing, such as tear film or corneal topography, the cost of contact lens exam may be slightly higher than anticipated.
However, these extra tests are necessary for determining what kind of contacts are right for you.
If you do not have eye conditions other than refractive errors (nearsightedness, farsightedness and/or astigmatism), you may not require more in-depth eye testing.In addition, some eye conditions may need to be treated before you can wear contact lenses, such as blepharitis. An eyelid inflammation more commonly seen in older adults, blepharitis is treated with oral antibiotics, corticosteroids or topical antibiotics prescribed by your Jacksonville eye doctor.
If you are concerned about possible added costs to your contact lens exam, we will be happy to discuss this matter with you.
What To Expect During a Contact Lens Fitting
Ensuring your contact lenses are not too steep, too flat or wrongly sized is essential for preserving your eye's health and optimizing vision. During your contact lens exam with your Jacksonville eye doctor, you will have one or more of the following measurements taken of both eyes:
The curvature of your cornea--using an ophthalmological device called a keratomer, your eye doctor measures corneal curvature for obtaining diameter and contour dimensions. Keratometry readings also determine whether you have astigmatism since they detect vision power differences across your cornea. Using this device helps your eye doctor find any irregularities existing on the surface of your eye that may indicate you need special contacts called toric contact lenses. Available as soft, disposable, extended wear and multifocal lenses, toric contact lenses are usually prescribed for people with astigmatism.
Corneal topography–if keratometry does not provide enough information for your Jacksonville eye doctor, you may need to have your corneal surfaced mapped using a corneal topography device. This allows eye doctors to capture precise details not visible during a keratometry procedure by creating a corneal map comprised of different colors and contours.
While keratometers measure curvature dimensions of your cornea by evaluating only four "points",  corneal topography equipment is linked to computer software that analyzes thousands of corneal points established along predetermined lines.
Slit-lamp test–the size of the iris and pupil plays a critical role in designing your contact lenses, especially if you need gas-permeable lenses. Pupil and iris measurements are taken with a biomicroscope, or slit lamp device consisting of a tiny microscope and intense light beam.
Iris and pupil sizes vary significantly and contribute to how large contact lenses should be to fit correctly. Slit lamp tests are also useful for viewing the retina and optic nerve, for detecting cataracts, iritis and conjunctivitis and for monitoring macular degeneration and glaucoma.
Tear film test–to determine if you need special contact lenses due to inadequate tear production, your Jacksonville eye doctor may place a drop of liquid dye in both eyes to examine them with a slip lamp device.
By placing a paper strip just under the lower eyelid of each eye, your eye doctor can also evaluate how well and how quickly eye fluids moisten the strip.
Call Us Today To Schedule An Appointment!
To schedule an appointment for a contact lens exam, please call our Jacksonville eye doctor today. VAL-Uvision also provides professional preoperative and postoperative care for people planning on having LASIK surgery or other eye surgeries.
Leave a reply