What Is The Average Cost of Prescription Glasses Without Insurance? (Updated For 2023) | VAL-Uvision Jacksonville Optometrist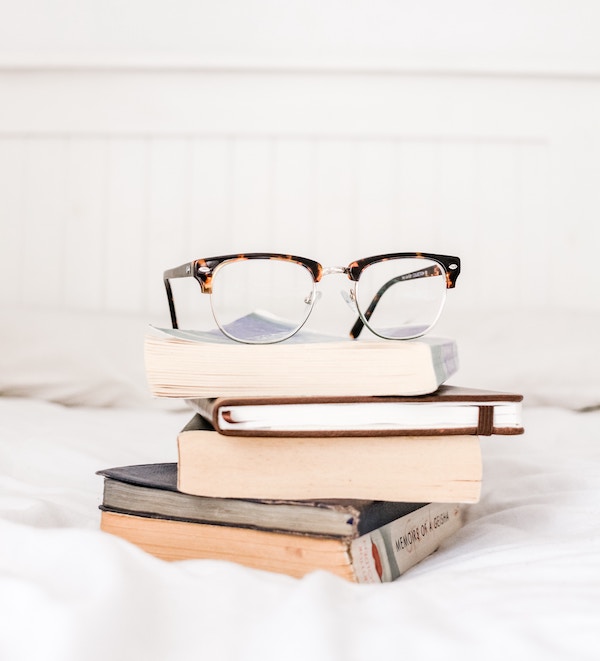 Last Updated: August 14, 2023
If you're shopping around for new prescription glasses without insurance in 2023, it's tricky to narrow down which place to go to with the huge range of brick and mortar stores and online retailers out there.
Here's a low down for your reference if you're shopping for prescription eyeglasses or sunglasses without insurance in 2023.
National Average Cost of Glasses Without Insurance In 2023
The U.S. average cost for eyeglasses varies significantly based on various factors such as your prescription, frames, lenses, region you live in and eyewear brand you purchase.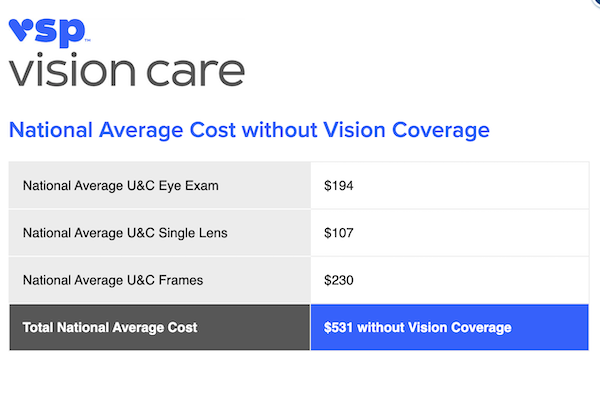 As of 2023, according to VSP (above):
• The average cost of a pair of frames without insurance is $230
• The average cost of a pair of single-vision lenses without insurance is $107. This doesn't include progressive lenses, which is typically more costly.
Other stats show similar pricing.
The average cost of glasses without insurance is $242 using statistics from VSP. This was from a 2019 VSP global consumer study. $242 was for frames only. For basic, single lenses, it was priced at $113 on average.
Using these numbers, you can see that, on average, a complete pair of glasses will run you between $200-$300+ if you don't have vision insurance.
However, average cost of a complete pair of eyeglasses in the U.S. truly runs the gamut. A Consumer Reports survey reported:
Readers spent a median of $69 for a complete pair of glasses (frames & lenses) at Zenni
Average cost of glasses without insurance at Costco was a median $184
Average cost of $400 for frames and lenses at eye doctors and independent eyeglass shops
If don't have a prescription and need to schedule an eye exam near you, that's an additional charge.
Why the huge disparity?
Prices go up when you add on higher-quality lenses, fancy coatings, designer brands, and so forth.
For example, with a prescription in hand, some retailers advertise bare-bone glasses as cheap as $6.95. Some, like Warby Parker, can start at $95 for a single-vision pair. However, if you order progressive lenses from WP, those prices jump to nearly $300—far more than most retailers.
Furthermore, bifocal or trifocal glasses, as well as specialty glasses for specific eye conditions, may cost more than other glasses.
Pros & Cons Of Buying Online
Here's the catch. Although many retailers sell at a low price, there can also be downsides to buying cheap and/or online, such as:
You're taking a chance if you buy frames without having tried them on to see how they look and fit.
Selection of eyewear may not the best – Consumer Report survey respondents were not impressed by the selection of frames at Costco, for example.
You'll have to wait for glasses to be mailed to you if you purchase online.
Getting your glasses by mail can be a hassle, especially if you have to send them back if there's a problem. If your frames need adjusting, it can be challenging finding a nearby eye doctor to do it for little or no charge.
All in all, what you'll pay is going to depend on your individual preference and what you value. What's more important to you — Lowest Price? Convenience? Excellent personal attention? Wearing the latest top brands?
For example, independent local eyeglass shops or a private doctor's office got high satisfaction scores from Consumer Report members for the fitting of frames and lenses, employee knowledge and exceptional follow-up service.
It's like comparing staying at a premium hotel vs an economic hotel chain.
Eyeglasses and Sunglasses Specials in Jacksonville
When you visit VAL-Uvision for your glasses in Jacksonville, Florida, you have specials available to help limit the costs of your new glasses.
We work with individuals who may not have insurance to pay for a visit to an eye doctor and we understand that you have specific concerns when you purchase new glasses.
At our clinic, we offer monthly coupons to help cut the cost of replacing your old glasses.
Why Go With An Optometrist In Jacksonville For Prescription Glasses
Our clinics are locally-owned and have been providing quality family eye care services since 1973. Since we have more than 40 years of experience, we have the skills to handle your concerns.
We also have the ability to focus on your needs because our clinics are not owned by large corporations.
We offer flexible payment options and have specials to help with your costs. We also accept many insurance providers, which makes it easy to accomplish your goals when you need to check on your vision.
Book an Appointment With Us Today!
To learn more about our specials or to set up an eye appointment in Jacksonville, call us today.
Leave a reply